HAPPY DIWALI 2011, everybody!
Diwali aka Deepavali aka Festival of Lights is celebrated by lighting small clay lamps (diyas) filled with oil to signify the triumph of good over evil and the uplifting of good over evil. During the celebration, everyone wears new clothes and share snacks and candies with family members and friends.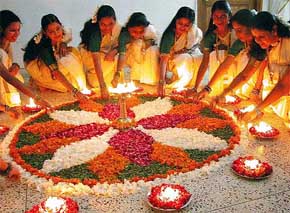 For many of my Singaporean friends, today is a public holiday today
but not in Brisbane, Australia!
Its WEEK 13 before Exams!
However, there is a celebration at

Sri Selva Vinayakar Koyil
(Ganesha Temple)
4915 – 4923, Mt Lindesay Highway
South Maclean, QLD 4280
Meanwhile, enjoy a music video from my favourite Hindi movie of all time
watch video here
http://www.youtube.com/watch?v=PowlCiFOR7M
http://mydemoninyou.blogspot.com/